Watch how it works!
Curb-to-Contract advertising
Simplify your listing management

Select & schedule ads

Track ad placements
Get a FREE demo!
Contact us to schedule a 

FREE demo/walk-through

 of the complete AdVantage System!
Don't like to scroll down? Quick links: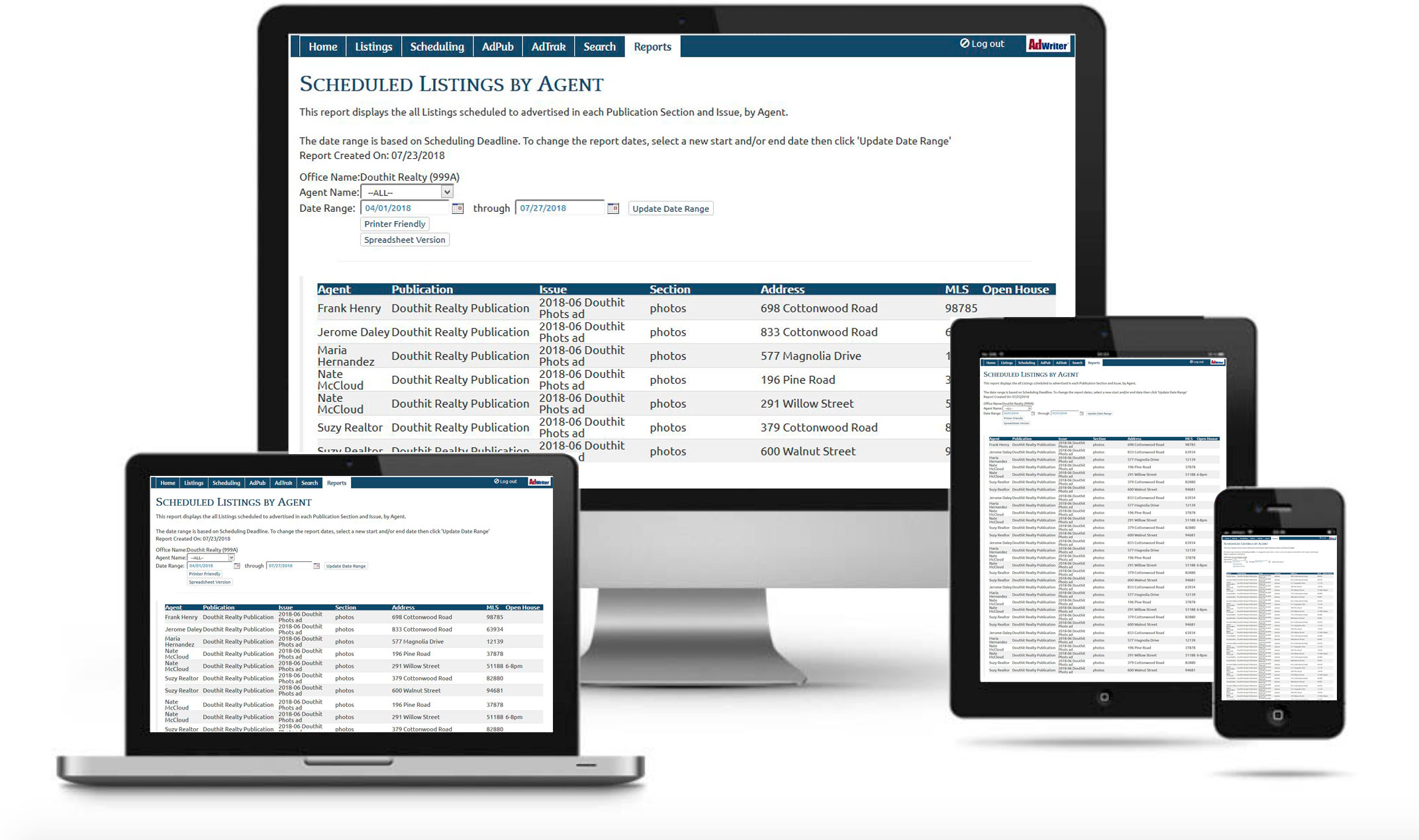 The AdVantage system from AdWriter, Inc. is a turnkey full software solution for managing complete real estate listing databases, as well as the scheduling and publishing of listing advertisements.
For more information, details or custom requirements, contact AdWriter anytime at 800.646.7323 or send us a note. 
Manage your listings & ads easily!
Here are some of the benefits of using the AdVantage System: 
Automatically imports listing data from your MLS or in-house database
Incorporate everything for your ads in one place
Grows and customizes to meet your brokerage needs
Automatically writes compelling descriptions in English and Spanish
Built-in scheduling and ad tracking to optimize each advertising space
Export/flow the listing data directly to page composition

Make every listing different and engaging!
Major time-saver for agents and office managers
Automatically creates listing description from feature codes
Generates description to fit the ad space
Multiple lengths and languages (Spanish) available
AdCopy natural language engine is built-in so you can use the copy directly in any advertisement.
AdCopy generates property descriptions with specific lengths (character counts) that fill-up each space in your advertisements.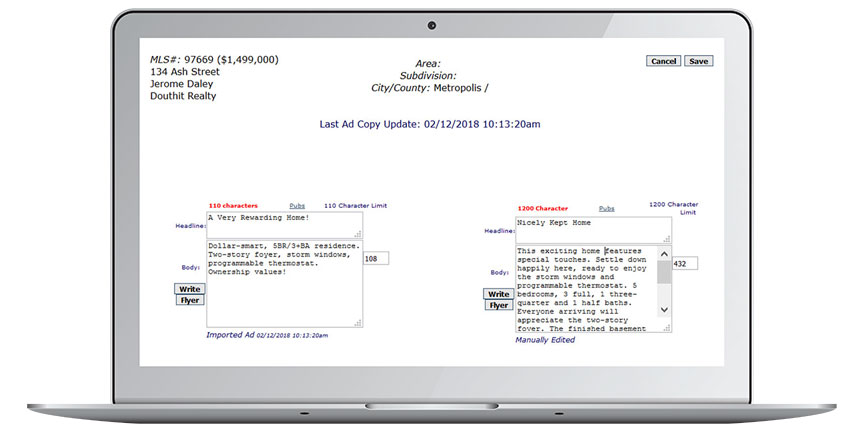 The AdCopy that is automatically created can always be edited and customized.
If you don't like the description that is auto-generated, simply click the "Write" button and the AdCopy System will re-generate a new description.
Listings imported from MLS databases also carry the "Remarks" field which can be merged with the AdCopy description or used alone in an advertisement.
"AdWriter offers an exceptional, easy to use product with outstanding customer service! From initial implementation to ongoing training and support, Ad Writer continues to impress! With their easy to use portal, our team can quickly and easily create professional listing ads in our own custom templates! We are thrilled with our partnership with Ad Writer and confidently recommend their services!"
"We've been using spreadsheets to catalog our listing inventory, but then have to look in separate place for the photos. AdWriter's AdVantage system has helped us keep all this data under one roof."
"Myself and other agents never really like to write the listing descriptions. I get stuck in a writing rut. This AdWriter system creates the perfect language automatically, but I can tweak it as needed."
"As a small newspaper publisher, we struggle with advertisers changing their listings just before press time. Using AdWriter System allows our advertisers the flexibility to schedule house ads just-in-time."